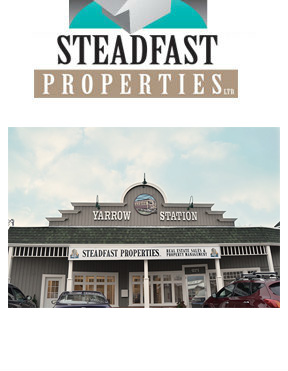 Steadfast Properties Ltd.

Phone: 604-864-6400
Fax: 604-864-6484
Toll-Free: 1-877-864-6424

Chilliwack Location
42375 Yarrow Central Road
Chilliwack, BC, V2R 0K1





Abbotsford Location
#204 - 2776 Bourquin Cres. W.
Abbotsford, BC, V2S 6A4


Forms
For your convenience, Steadfast Properties Ltd. offers the eStrataHub electronic document delivery service from Access Point information Canada (APIC) to process requests for strata documents. There will be a convenience charge of $13.50 for orders processed through eStrata Hub.
How to submit and order:
Using a credit card:
Go to APIC site at www.apicanada.com and click the "Register" link (registration and activation just takes a few minutes).
After registering with APIC, log in and click the "Purchase Strata Documents" button.
Click the "Create New Order" button and fill in the information.
Using BC OnLine:
Go to the BC OnLine site at www.bconline.gov.bc.ca and log in. If you do not have an account with BC Online, click the "Register" button.
Log into BC Online and select "eStrataHub" from their menu.
Click the "Create New Order" Button and fill in the information.
If you do not wish to use the eStrataHub credit card service, you can print off our request form, fill it in completely and fax or email it to our office. However if you wish to use this method, you will need to pay by cash or certified cheque when you pick up your documents from our office. Credit or debit cards will not be accepted at our office.
---
Our forms below: