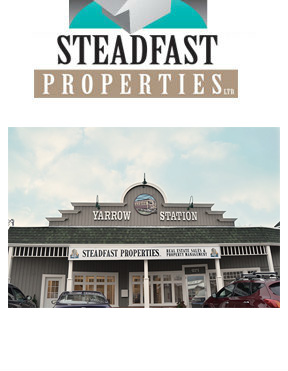 Steadfast Properties Ltd.

Phone: 604-864-6400
Fax: 604-864-6484
Toll-Free: 1-877-864-6424

Chilliwack Location
42375 Yarrow Central Road
Chilliwack, BC, V2R 0K1





Abbotsford Location
#204 - 2776 Bourquin Cres. W.
Abbotsford, BC, V2S 6A4


Strata Management
We offer prudent financial management, assistance in maintaining the value and integrity of your property, extensive knowledge of the Strata Property Act as well as guidance and advice to promote harmonious relationships within your Strata Corporation.
We believe that it is important to put our clients first and to assist the council in doing their due diligence; such as helping them to understand the importance of reviewing yearly contracts and collecting numerous quotes for items such as insurance, landscaping etc..
Over 20 years of experience in the Property/Strata Management, and Real Estate Industry!
Colleen Floris and her staff continue to upgrade their knowledge through continuing education courses such as "Legal Update", "Condo Law 101" and "Condo Law 202". They also attend many courses and seminars sponsered by CHOA, The Condominium Home Owner's Association, and PAMA, the Professional Association of Managing Agents. These courses provide advanced strata law information which helps to assist Strata Corporations with running their corporation in an effective and efficient manner.
Please call Colleen Floris or Ian Osman for a customized management proposal based on the size and individual needs of your Strata Corporation.
Our Boardroom is available to host your
council meetings at no cost!