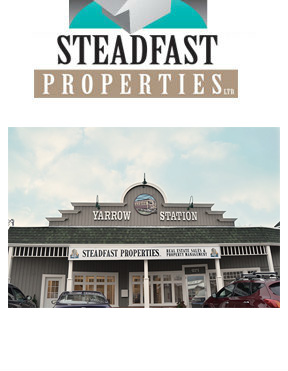 Steadfast Properties Ltd.

Phone: 604-864-6400
Fax: 604-864-6484
Toll-Free: 1-877-864-6424

Chilliwack Location
42375 Yarrow Central Road
Chilliwack, BC, V2R 0K1





Abbotsford Location
#204 - 2776 Bourquin Cres. W.
Abbotsford, BC, V2S 6A4


Testimonials
"Steadfast Properties" is by far the best in the Fraser Valley. They are very good about returning calls, emails and basically getting things done. Ever since we have used them we have had only good things to say. Strata's Choice is definitely the right choice! They are wonderful to deal with!
– Natalie Schartner – Clayburn Ridge
"We are delighted to say that we have found Colleen and her team to have discovered the fine balance between professional excellence and personal care and attention.
In a few words, we would say that Colleen and her highly qualified team have been consistently personable, co-operative, prompt, concise, trustworthy and helpful in every instance."
– Bud Jackson – View Pointe Properties
"(Steadfast Properties) has shown patience and guidance with your helpful response to our many concerns and questions – day, evening or even on the weekends, by email or phone call; always helping us to understand the many nuances in the strata law. This is a team that works well and with diligence. We congratulate you as you move into a larger involvement in the strata management world, becoming "Steadfast Properties". We know your team will continue the great work that we have become used to and we look forward to many more years of working together.
– Lynne Hutsul, Lakewood Gardens Council President
"Colleen Floris is in her 11th year as our property manager. We are exceedingly grateful to realize that our initial hiring of her was to be our good fortune over these many years – we will continue to renew her contract.
Colleen has 20 plus years of experience in this industry, and is exceedingly knowledgeable with respect to the Strata Property Act and all other rules & regulations that apply to this business. She is professional, prompt with responses and, along with her staff, is a pleasure to work with."
– Margaret Neufeld – Brookhollow Estates
"We are very happy and pleased to have Steadfast Properties Ltd. as our management team. Colleen Floris is professional and has expert knowledge of the Strata laws. She is always there to guide us through any issues that arise and has given us excellent advice over the years. Superb individuals are on staff – great customer service that is friendly, helpful and well informed. There is peace of mind to know we can rely on such an excellent company. I have no hesitation in recommending Steadfast Properties Ltd."
– Lenora Schroeder – Evergreen Village
"The service that Colleen Floris and her staff have provided us over the past seven years has been nothing short of exceptional. Colleen's company has succeeded in furnishing our townhome community with outstanding leadership through ethical and professional practice based on integrity. Our experience with Steadfast Properties has been exceptional and we look forward to many years ahead.
– Mrs. Kim Switch, View Pointe Properties Council Secretary)
"Colleen's company (Steadfast Properties) has been our property management team since July 2011. As a strata council member, there are so many aspects regarding strata property to deal with, but with Colleen's expertise and guidance, we have dealt with issues with confidence. As long as I am a strata council member, I want to keep the same great relationship with Colleen and her colleagues that we have built up. I hope to have colleen as our property management company for many years to come.
– Lee Taylor, Lombardy Lane Council Vice President
"Quite simply one of the best strata management corporations in the lower mainland. Colleen is both professional & efficient, not to mention a first rate problem-solver. We are fortunate to have "Steadfast Properties" as our management team.
– Rovin – Clayburn Ridge